We started off in Longyearbyen but were quickly ushered aboard the ship to take off for our trip around Svalbard. The only photos I have are of the Global Seed Vault. It's just a concrete doorway. But, it's amazing to think of all the millions of seeds they have stored there from all over the world.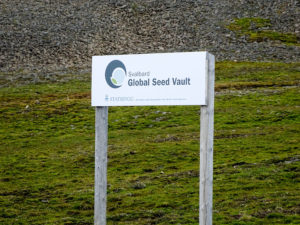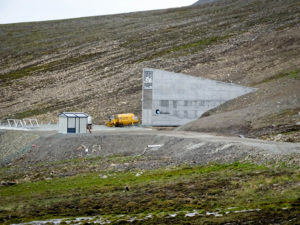 Svalbard is way North about 600 miles from the North Pole. It was light out for 24-hours a day. Now, I'm a sunshine person. I'm completely solar powered. When the sun goes down, I have about 2.5 hours of battery available before I have to go to bed. In Costa Rica, where I live, that means I'm in bed at 8:30pm…365 days of the year. I'm up at 5 am, however, because that's when the sun comes out. So, you can imagine how confused I was to see the sun all the time. Made going to sleep difficult. An eye mask was a necessity.
Our first stop was Ny-Ålesund. Ny-Ålesund is the world's northernmost permanent settlement. It was discovered in 1610 and was a coal mine off and on until about 1962 after several mine disasters, the last one killing 21 of the 25 men who were on the shift. Around 1966 the Norwegian Polar Institute established a post here with two people only staying for the summer. It was also one of four sights for a telemetry station for the European Space Tracking Network.
In 1990 the discovery of high levels of eco-toxins in arctic animals let to greater research efforts to investigate the problem. Ny-Ålesund became a center of eco-toxicological research in the Arctic. The research based here contributes to the international political processes that documents climate change, environmental contamination, and ecological changes in the Arctic.
Today, about 40 people live here all year and stay anywhere from 1-6 years and promote research, preserve the cultural heritage and develop a green community. All of the meals are eaten together in the dining hall. The shop is open twice a week, or when a cruise ship is docked. There is an interesting little museum with mining artifacts and bios of some of the current researchers stationed in Ny-Ålesund. It's not all work all the time, though. They spend their leisure time pursuing personal interests and projects such as crafts and music.
After we left Ny-Ålesund, we just wandered around the island of Svalbard popping into the various sounds along the way. Compared to what we see on a daily basis in Costa Rica, there wasn't a whole lot going on as far as plants go. But, once we were transferred by zodiac from the ship to the shore, we were very fascinated with the flowers. They were so small and just beautiful. I have gazillion photos of flowers.
Then we saw the birds. One is not prepared to see that many birds. Millions of them. All on one cliff. It's unbelievable that the eggs hatch on a tiny slip of rock. No nest. Just propped in such a way that it won't roll off. And the babies, when they fledge, just jump sometimes 100 feet to, hopefully, land in the water where Dad is waiting to swim around with them until they are ready to fly. Gripping stuff, really.
And glaciers. Wow. Anyway….part Two is here. Sorry, it took so long.
SaveSave
SaveSave